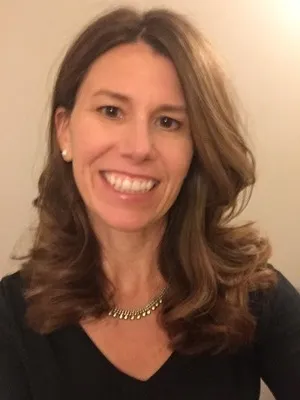 Krista is a Licensed Marriage and Family Therapist (LMFT) and Licensed Professional Counselor (LPC) in the state of Virginia. She graduated from the University of Miami with a degree in psychology and biology and received her graduate degree in Counseling Psychology from the University of Colorado. She has been working in the field of counseling with adults, children, and families since 1997.

In Colorado, Krista was a counselor and treatment coordinator for 7 years at a youth treatment center that addressed issues pertaining to trauma, loss, anxiety, depression and ADHD. When she moved to Virginia, she began work with the City of Alexandria, where she created after-school programs for adolescents and worked with adults who were also struggling with mental health needs. Since 2008, Krista has been in private practice in McLean, VA.
During this time she has received extensive training in family and adult modalities as well as supervision in play and expressive art therapies to address issues that impact children, adolescents, and families. Please ask for further information on how children use play to work through treatment issues or visit www.a4pt.org as well ICDL ( www.icdl.com) where she received continuing education in working with children that have identified learning delays.

Cognitive Behavioral Therapy, Family Systems, and research from the John Gottman Institute are approaches used when working with adults and couples. She applies these skills and research in her work. Individual, marital, and relationship therapy is an interactive and growth oriented process. Homework between sessions may be provided to aid in improving the relationship dynamics and skills. There has been an increased amount of research in the field of marital and family therapy and techniques/strategies are focused on improving attachments and communication skills.
Family therapy is often seen as a way to enhance communication between different members, however in working with families, Krista's style is to also understand relational histories, current dynamics, and ways to foster attachment with parents and children. Life stressors can interfere with our relationships yet there are ways to repair them so that they deepen and heal. Attachment Based Family Therapy is a model that she currently uses and more information can be gained here to see if it is right for you.